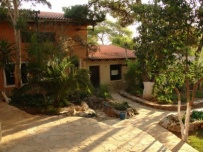 Yogic Lifestyle Course "Harmonizing Head, Heart and Hands"

Harmonizing head heart and hands is one of the main characteristic and aims of the Satyananda system of yoga. This means that during the Yogic Lifestyle Course we shall look at the different practices of yoga with the aim to synchronize:
· The head (thoughts, reasoning, intellect),
· The heart (feelings, emotions, desires etc) and
· The hands (physical actions etc)
Usually there is discord, we are disconnected from our body, lost in our thoughts, overly swayed by our emotions – in other words we have a lopsided personality and little control of over our lives.
In this course we will use various tools of yoga to synchronize head, heart and hands.

Subjects will be selected from the following:
· How to integrate the head, heart and hands through the practices of yoga
· Heart coherence and yoga practices for a coherent heart
· The hearts intuitive intelligence
· How to manage the mind through the heart
· How to synchronize the head heart and hands
· How to avoid a lopsided development
· Head, heart and hands in Satyananda Yoga
· How to become aware of our vital energy, how to balance it, use it and channel it
· How to discover our strengths, weaknesses, ambitions and needs
· How to keep the mind calm, positive and balanced
· How to be aware of our emotions and how to manage them

The practices which are going to be included in the seminar:
· Shatkarmas
· Asana
· Pranayama
· Mudra
· Bandha
· Yoga Nidra
· Meditation techniques
· Mantra practice
· SWAN technique
· Satsang

What your package includes
Accommodation in the ashram
Three healthy and nutritious vegetarian meals per day
Early morning and afternoon yoga classes/workshops
Theoretical classes and workshops on topics related to yogic lifestyle
Satyananda Yoga Nidra (deep relaxation practice)
Creative workshops
Access to the ashram library and bookshop
Possibility to practice "Lagoo Shankaprakshalana" (the short intestinal wash) as a sping cleanse for body & mind.
Läs mer i pdf:erna nedan eller på ashramets hemsida
Pris: 402 Euro
Early bird 352 Euro vid anmälan och betalning senast 5 mars 2019
Kurstider: 6 april eftermiddag - 13 april lunch
Efter anmälan får du information om hur du bokar på ashramets hemsida. Betalning och bokning sker direkt till dem.

Du bokar själv din flygbiljett till Aten
(ex: www.sas.se, www.momondo.se, www.aegeanair.com, www.skyscanner.se) Försök att hitta "bra" flygtider så att du inte ankommer för sent på kvällen. Planera gärna att ankomma dagen innan kursstart, 1 extra natt kostar 27 euro. Ashramet ligger lantligt och lugnt vid foten av ett berg endast 25 min taxiresa från Atens flygplats.