Grekland 19-25 april 2020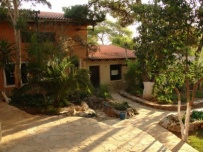 "Bhakti Yoga - The Yoga of the Heart"

Yogic Lifestyle Course på Satyananda Ashram strax utanför Paiania som är lantligt och lugnt beläget en bit utanför Aten.

Emotion is a mental state variously associated with thoughts, feelings, behavioral responses, and a degree of pleasure or displeasure. It is often interlaced with mood, temperament, personality, disposition, and motivation. According to yoga, emotion is energy in motion, therefore each emotion has its own power which we can use constructively or destructively. This power colors the way we think, feel, behave and perceive. It can lift us up and bring beautiful experiences, or it can bring us deep down. Emotions are often the driving force behind our actions, motivation, desires, ambitions. They are complex and therefore one must learn how to become aware of them, how to understand, direct, channel them so that their power can be used positively for our own benefit and inner growth and for the benefit of those around us. The best way to do this is through the practices of bhakti yoga – yoga of the heart.

In this seminar we are going to explore:
Understanding emotions
Emotions in the physical body
Emotions & mind
Emotions & behavior
Emotional patterns
Positive vs negative emotions
Yogic tools for channeling & transforming emotions
Emotional intelligence
Bhakti yoga
Principles of Yogic Lifestyle in relation to emotional management

Practices:
Asana
Pranayama
Mudra
Bandha
Meditation techniques
Satyananda Yoga Nidra
Workshops

What your package includes
Accommodation in the ashram
Three healthy and nutritious vegetarian meals per day
Early morning and afternoon yoga classes/workshops
Theoretical classes and workshops on topics related to yogic lifestyle
Satyananda Yoga Nidra (deep relaxation practice)
Creative workshops
Access to the ashram library and bookshop
Possibility to practice "Lagoo Shankaprakshalana" (the short intestinal wash) as a sping cleanse for body & mind.
Läs mer i pdf:erna nedan eller på ashramets hemsida
Pris: 410 euro.
Datum: 19-25 april.

Kursen hålls på engelska av erfarna lärare som bor och verkar på Satyananda ashram i Paiania, Aten.
Efter anmälan får du information om hur du bokar på Satyananda ashram, Paiania, Aten hemsida. Betalning och bokning sker direkt till dem.

Du bokar själv din flygbiljett till Aten
(ex: www.sas.se, www.momondo.se, www.aegeanair.com, www.skyscanner.se) Försök att hitta "bra" flygtider så att du inte ankommer för sent på kvällen. Planera gärna att ankomma dagen innan kursstart, 1 extra natt kostar 27 euro. Ashramet ligger lantligt och lugnt vid foten av ett berg endast 25 min taxiresa från Atens flygplats.